Portable Lighting
All lamps light; only the best Illuminate. Note the attention to detail from the finial to the base, and the pitch-perfect harmony between lamp and shade. Add to this exquisite proportions and you have a true work of art. TIP: You should keep your shade dimensions within the confines of your surface.
AVA. Soft and elegant sugar glaze ceramic body with subtly luminous textured round drum shade. 28 1/2h. Shade: 17 x17 x11h.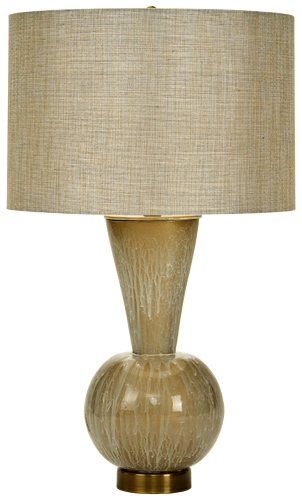 LADY GRAY. Feminine novelty piece hand painted and superbly detailed. Ceramic body with trimmed and embossed shaped velvet shade. 27h. Shade: 7 1/4 x 5 1/2 (top) x 13 x 11 (bottom) x 9 1/2h.
GOOD REEF. Coastal with utmost sophistication. Beautiful shell body with double layer rectangular French reed silk shade on wooden base. 22 1/2h. Shade:
6 x 13 (top) x 7 1/2 x 15 (bottom) x 9 1/2h.